Seller Services
Sell or Transition Your Business with AdviserXchange
Overview
Do-it-yourself or let us guide you.
Search the Marketplace for your ideal successor
Engage with and receive offers from targeted candidates
Create and implement a customized plan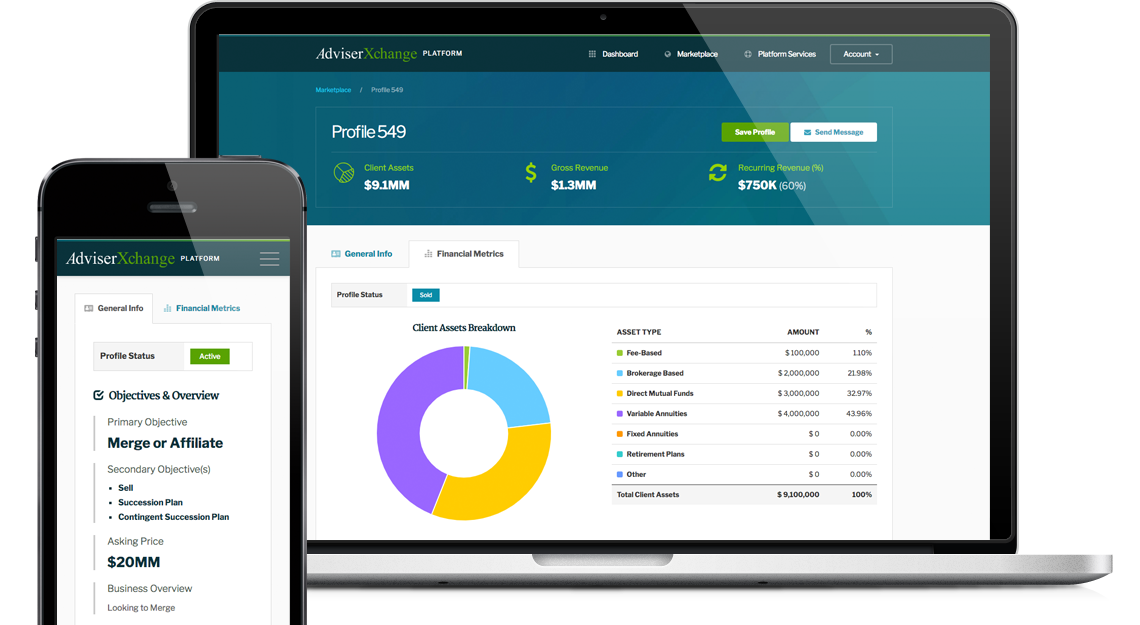 Key Features
Rely on our experience to guide you through the entire process.
---
Profile
Create an anonymous Marketplace profile for your firm/practice
Search
Search the Marketplace for your ideal buyer/succession partner
Notification
Spur buyer interest with a free email blast announcing your entry
Advanced Filtering
Utilize filtering feature to refine your Marketplace search results
Full Profile Access
Review detailed business info on all buyers/succession candidates
Saved Profiles
Save the profiles that meet your targeted criteria for quick reference
Private Messaging
Initiate and respond to inquiries through private messaging service
Introduction Assistance
Get help starting conversations with buyers/succession candidates
Featured Profile
Elevate and improve Marketplace exposure with a featured profile
Active Marketing
Maximize candidate interest with a proactive marketing campaign
Candidate Screening
Leverage our experience with the candidate screening process
Guidance & More
Obtain professional guidance, support and insight
Scott might be the exception in this business. At no time did I feel pressured to sell — his approach is that of service and counsel. If it was not the right fit, Scott was the first person to suggest that we find a better fit. He was more interested in making sure my goals were met than he was in just making another sale. Overall, Scott exceeded every expectation that I had in this endeavor that lasted close to two years due to my learning curve of who was the right fit for my clients. As a result of my experience, I would highly recommend Scott and AdviserXchange to advisors who are ready to sell their firm or practice.
- Brett S., CEO
Scott Houston contacted me about five years before I actually pulled the trigger for active succession planning. He impressed me with his knowledge of the business and the transition process. Moreover, he impressed me with his infinite patience and follow through. He listened carefully to my questions and concerns and addressed them. His process resulted in my connection to a group that is cognizant of my needs in the transition, as well as focused on the welfare of my clients. I recommend Scott and his firm to any advisor looking to create and implement a succession plan.
- KL, Principal
Service Levels
Compare Service Levels
---
| | Basic | Proactive | Custom & Breakaway |
| --- | --- | --- | --- |
Profile

Basic

Proactive

Search

Basic

Proactive

Notification

Basic

Proactive

Advanced Filtering

Basic

Proactive

Full Profile Access

Basic

Proactive

Saved Profiles

Basic

Proactive

Private Messaging

Basic

Proactive

Introduction Assistance

Basic

Proactive

Featured Profile

Basic

Proactive

Active Marketing

Basic

Proactive

Candidate Screening

Basic

Proactive

Guidance & More

Basic

Proactive

Fee

Basic

Free

Create Account

Proactive

Free

Create Account
Custom Seller
For large or more complex businesses. Our Custom service is intended for advisers with businesses that are  larger or more complex and/or who want more hands-on guidance and help with the sale or transition of their firm or practice. Once we understand your situation, we will work with you to create and implement your custom plan.
Schedule Consultation
Breakaway Seller
For employed advisers wanting more. The Breakaway service is designed for employed advisers who are seeking an alternative exit strategy that allows them to maximize the value of their practices when they go to retire. Qualifying advisers will need to plan ahead and be prepared to transition their practice to an external investment platform.
Schedule Consultation
Looking for more?
Have general questions or a unique situation? Contact us to start a conversation.
Contact Us